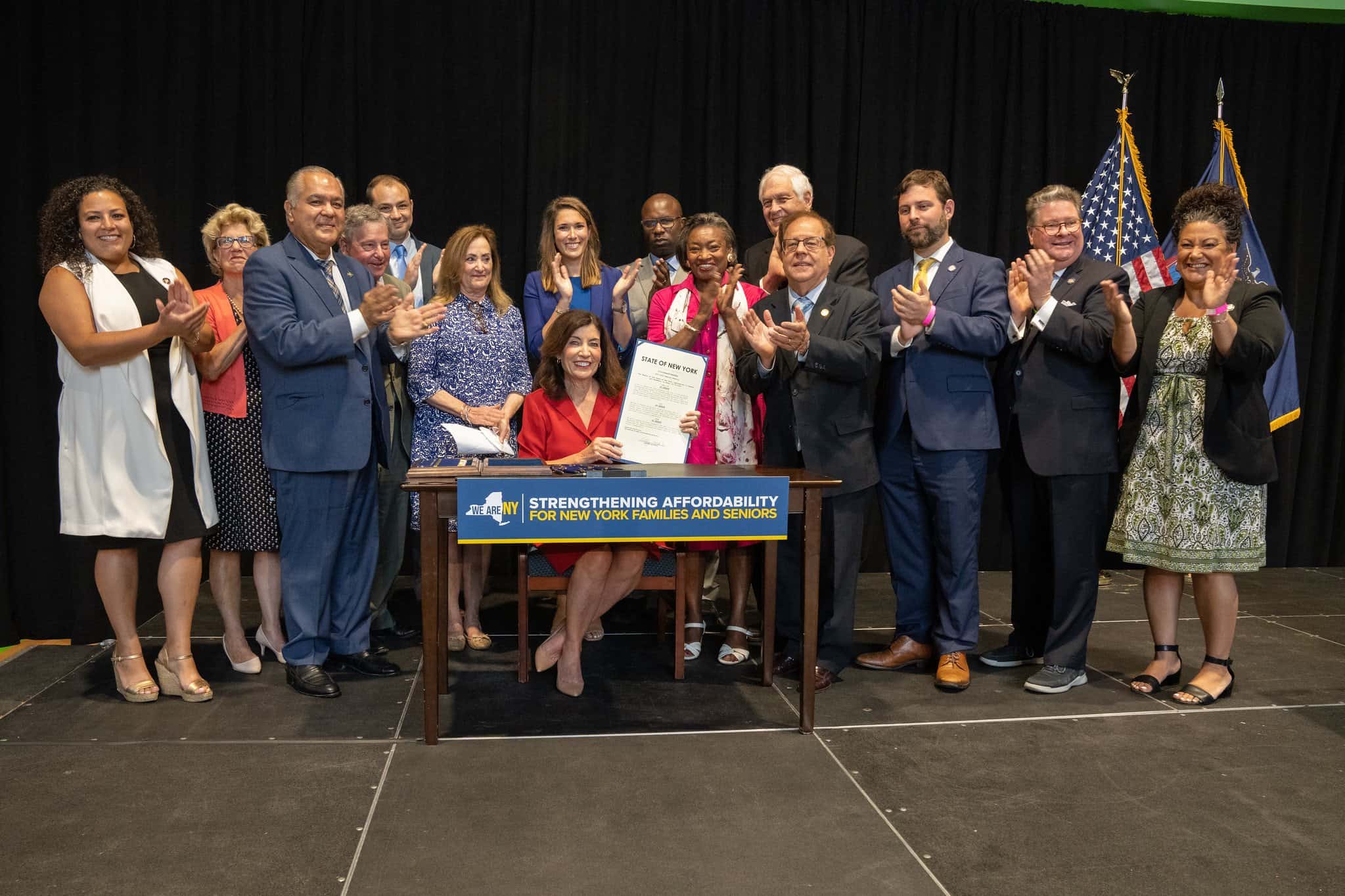 Governor Hochul Signs Property Tax Relief for Senior Officials Bill Sponsored by State Senate Majority Leader Stewart-Cousins
New York Governor Kathy Hochul along with State Senate Majority Leader Andrea Stewart-Cousins ​​and other Westchester lawmakers sign affordability bills for seniors and first-time home buyers.
Other measures signed will strengthen housing affordability for seniors and first-time home buyers
August 8, New York Governor Kathy Hochul signed a package of bills that address housing affordability for senior homeowners and first-time homebuyers.
A measure, sponsored by Stewart-Cousins ​​State Senate Majority Leader, raises the income level for people aged 65 and over and people with disabilities to apply for a property tax exemption. It allows municipalities outside of New York City to increase the income eligibility level to $50,000, up from $29,000 previously.
"After a lifetime of contributions, it is our duty to ensure that older people can live in comfort and dignity for the rest of their lives," Stewart-Cousins said. "My bill contributes to this goal by expanding eligibility for the property tax exemption for those 65 and older, and for those with disabilities and limited incomes. This will help ease the burden on people with financial constraints and protect the assets of the elderly and other vulnerable populations.
A bill was also signed that will provide greater benefits on a more flexible schedule to low- and middle-income senior homeowners in need of emergency repairs through the Residential Emergency Services program to provide repairs ( at home) to the elderly, known as RESTORE. Project timelines have been increased to 60 days and the maximum cost allowed per project will double from $10,000 to $20,000.
A third bill extends until 2028 the possibility for local municipalities to grant a property tax exemption to first-time home buyers who buy newly built homes. The option would have expired at the end of this year.
"Today I signed legislation to put money back in the pockets of New York homeowners and help seniors and families stay in their homes. straining families across the country, these new laws will help ensure that New Yorkers get the help they so desperately need," Governor Hochul said.