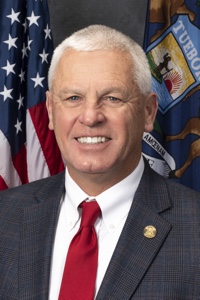 Bumstead vetoes inflation-fighting plan and veterans property tax exemption
LANSING, Mich. — Senator Jon Bumstead On Friday slammed Governor Gretchen Whitmer's decision to veto a $2.5 billion inflation-fighting plan that would have helped Michigan workers, families, seniors and veterans better cope with the rising cost of living in the state.
"I am deeply disappointed that Governor Whitmer is once again neglecting families in West Michigan who are struggling to meet the rising cost of living in our state," said Bumstead, R-North. Muskegon, who sponsored the veterans property tax proposal in the plan. "The fact is, every Michigander is bearing the crushing brunt of inflation as more and more people, week after week, struggle to afford gas and their basic necessities. The common sense plan we approved would have provided residents with much-needed financial assistance to combat these very real problems.
The Bumstead Veterans Property Tax Exemption Bill would have ensured that 100% of disabled veterans and spouses of those killed in action would continue to receive a 100% property tax exemption through the same process that currently exists. It would also have set a property tax cap of $2,000 for disabled veterans at more than 50% but less than 100%. The plan would also have kept local governments harmless by requiring the state to reimburse them for property tax exemptions, thereby easing a significant financial burden on them.
"This was a small but significant reform that would have protected our 100% property tax credits for disabled veterans and the process they use to obtain them, while providing a property tax exemption to even more veterans with disabilities while serving this country," Bumstead said. . "And by putting the burden of credit administration on the shoulders of the state, we would have alleviated the financial stress that many local governments across Michigan are experiencing. Throughout this time, the process for eligible veterans to claim their credit would have remained the same, but cities, towns, townships and counties would have received much-needed financial assistance.
The MI Family Inflation Relief Plan would have helped residents by:
Offer a tax credit of $500 per child for those 19 and under.
Increase the personal income tax exemption by $1,800.
Increase the personal exemption for people aged 67 and over to $21,800 for individuals and $43,600 for couples and tie subsequent increases to the rate of inflation.
Lower state income tax to 4%.
Restore the earned income tax credit to 20%.
"With the stroke of a pen, the governor said 'never mind' to workers, families, seniors and veterans," Bumstead said.
###